Submitted by

Loren Gatch New...

on Tue, 10/30/2018 - 16:33
          News & Notes Volume IV, No. 19
                      October 30, 2018
             Currency Coming and Going​
"The holy grail of paper money" makes it to mainstream media (Fox News). Also here (Barrons). And the "Grand Watermelon" in the numismatic press (Coinweek).
Uncorrected engraving mistakes (Bank Note Reporter, via Numismatic News).
Rare east African notes at auction (Numismatic News).
When coins were once made of paper (Coin World).
Prices and results from Long Beach (Bank Note Reporter, via Numismatic News).
Sweden's plans for e-krona (Bloomberg).
Iran in no hurry to lop zeroes off its currency (Financial Tribune).
For the collector who has everything: banknote cufflinks (Digital Journal).
A parallel currency for South Africa, the Cape Rand? (Capetown Etc.).
Barcelona's "social currency" (Boston University).
Zimbabwe's bond notes fall out of favor (Voice of America, video). The collapse of the economy and of the "zollar" (Quartz Africa).
More controversy about polymer's secret ingredient (POP, with video). And here (New Zealand Herald).
Collector-oriented notgeld issued to commemorate Germany's lost overseas possessions (Geldscheine-Online, in German).
The German Leistungsbescheinigung of 1939, valid for gas masks (Geldscheine-Online, in German).
Honoring Stalin on a zero-euro souvenir note? (Geldscheine-Online, in German).
La Cote de Billets, 2019 edition (Numismag, in French). Interview with co-authors of the French banknote price guide, 1800-2000.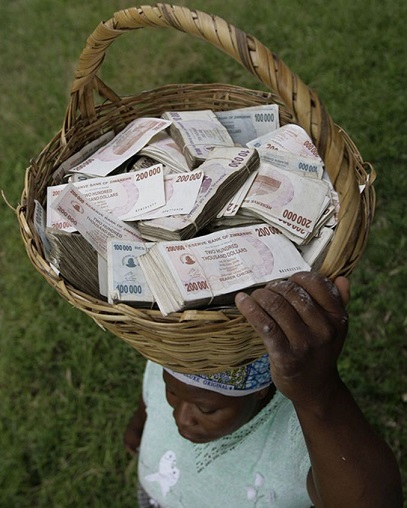 Don't even think of doing business in it (ZW News)
                    New Banknote Issues
             About the Banknote Industry
 Some of the businesses putting their best feet forward at the Anti-Counterfeiting & Currency Expo:
           Upcoming Industry Conferences
The Holography Conference, Minsk, Belarus, November 15-16, 2018 (Reconnaissance).
High Security Printing-Asia, Hanoi, Vietnam, December 3-5, 2018 (Reconnaissance)
The Future of Cash 2019, Athens, Greece, February 20-21, 2019 (Future of Cash).
Tweet