Submitted by

Dennis Schafluetzel

on Mon, 11/25/2013 - 12:19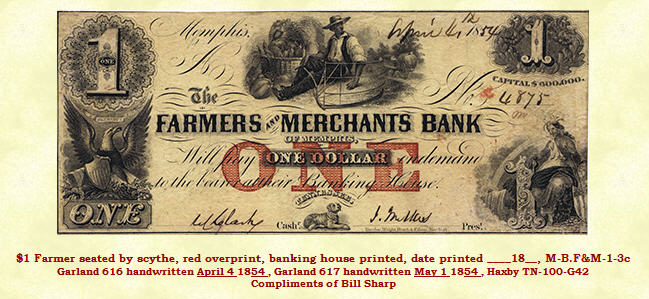 I am writing an update on Paul Garland's book on Tennessee obsolete currency. I began with the objective of publishing a book on Tennessee merchant scrip as an addition to Paul Garland's book on banknotes. Initially I decided to expand the Garland sequential identification numbering system from the published 1-1509 up to 9999 to include the Tennessee scrip that was not included in Paul Garland's book.
I later change the objective to include the all the banknotes because, a number of banknotes have been discovered since Paul Garland wrote the book in the early 1980s. I considered identifying the discovery notes with a decimal number between where they belonged in Paul's number system. At the same time I encountered whole new series of notes in the merchant scrip between where I had extrapolated Paul's numbering system that required I revise the numbering system. At that point I decided to use an open numbering system that allows for new discoveries in the numbering identification system.
The open identification numbering system consists of:
| | |
| --- | --- |
| Place | C for Chattanooga, BB for Big Bottom, Ca for Calhoun, etc |
| Type Issuer | B for Bank, M for merchant, G for government, etc |
| Issuer Name | Abe for Abernathy, R. G, Ala for AL & Chatt. RR, ETN for Bank of East Tennessee |
| Denomination | 5c for 5 cents, 1 for one dollar |
| Type Number | 1 for 1st type of that Location, Issuing type, Issuer, denomination / blank if only one type |
| Sub Type | a, b, c not used if no sub type |
| General Class | blank for issued note, Un for un-issued, PN for post note, Cf for counterfeit, Pf for proof, etc. |
If a specific printed note was issued for multiple branch banks with the only difference being the handwritten branch location it will have a different place identifying element but the remainder of the note ID will be identical. Athens 80 cent fractional note from the Planters Bank of TN ID is A-B.Pla-80c, Memphis 80 cent fractional note from the Planters Bank of TN is M-B.Pla-80c.
If the same printed note has multiple hand written dates it is the same type number. Bank of Chattanooga $100 Garland 116 & 117 has the same ID because only the 18 of the date is printed for dates: (Sep. 1,) 18(59) & (Oct. 1,) 18(60) . The ID will be C-B.C-100-2 for both Garland numbers.
Proof notes have the same type and sub type as issued or unissued notes. Proof note will have the General Class Pf added at the end of the ID. Issued = B-B.Agr-1-2, Proof = B-B.Agr-1-2Pf
Unissued notes will have Un added at the end of the ID. Issued = B-B.Agr-1-2, Unissued = B-B.Agr-1-2Un
Counterfeit notes have the same type and sub type as genuine notes but they have Cf added to the type number. Issued = C-B.Uni-20-4, Counterfeit = C-B.Uni-20-4Cf for $20 type 4 from Union Bank, Chattanooga branch.
An open type of identification is especially important for scrip since new denominations and issuers are and will continue to be discovered. I recommend the new and previously published books identification numbers be listed with the listing in the new book to make an easy for the users.
/sites/default/files/u176/g0616_bill_sharp.jpg
Tweet