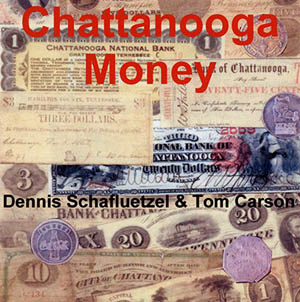 Reference :
Not in Library 3
Author :
Dennis Schafluetzel, Tom Carson
Body :
Self-published
This is a CD for use with a computer, PC or Macintosh; a comprehensive history of all kinds of money associated with Chattanooga, TN. Over 1000 illustrations. The information is updated with new discoveries, and the CD is produced on demand, so the one you ordered in 2003 may be different from the one you order today. Reviewed in the Nov/Dec 2003 issue of Paper Money. $25 postpaid in the United States from Dennis Schafluetzel, 1900 Red Fox Lane, Chattanooga, TN 37343. See http://schafluetzel.org/
Library Product :
Please register as a member to check out items.