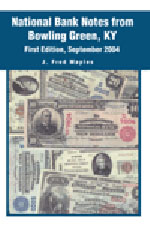 Reference :
Not in Library 8
Body :
Published September 2004.
Over 12 years of work by the author includes dozens of interviews and hundreds of research hours to catalogue surviving bank notes, document history of the banks, and find biographies of the bank's officers who signed the bank notes. From 1874 to 1935 Bowling Green supported six national banks, with notes surviving from four of the six banks. $10.95 from iUniverse.com.
Library Product :
Please register as a member to check out items.