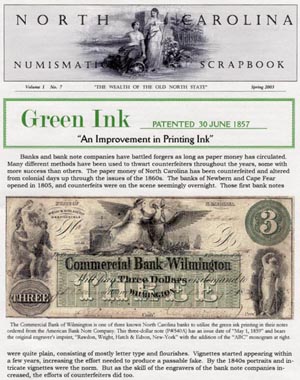 Reference :
Not in Library 5
Author :
PAUL HORNER, Jerry R. Roughton
Body :
Periodical.
A four-times per year publication on North Carolina numismatics generally, but most articles are about paper money. The authors are excellent researchers using primary sources, and the Scrapbook is attractively designed and heavily illustrated.
Available by subscription only, $15/year. The North Carolina Numismatic Scrapbook, POB 793, Kenansville, NC 28349
Library Product :
Please register as a member to check out items.