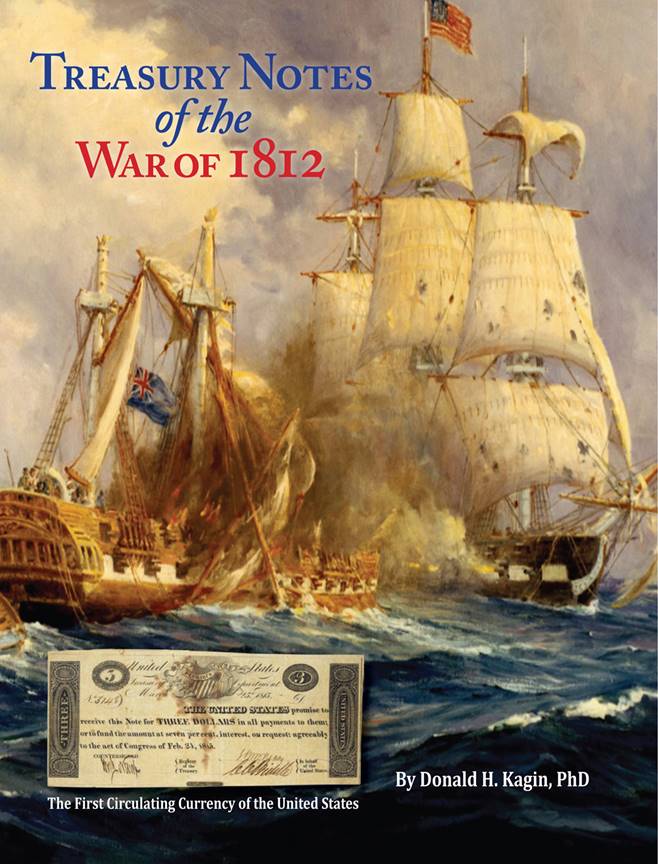 Reference :
Not in Library
Author :
Donald H. Kagin, Ph.D.
Publisher :
Kagin's Inc., Tiburon, CA
Body :
by Donald H. Kagin, Ph.D.
This 52-page hardbound story and catalog listing of the Treasury Notes of the War of 1812 is the first reference work covering the complete accounting of the first circulating currency of the United States. Related in succinct yet comprehensive narrative, this work tells the story of our fledgling nation's struggles to finance the War of 1812 against Great Britain, often called, "America's Second War for Independence."
Without garnering adequate funding from import duties and loans, paper currency proponents eventually prevailed over political opposition, resulting in Congress authorizing the Treasury Department to print interest bearing Treasury Notes and eventually non-interest-bearing notes which circulated as the new nation's first currency.
This often overlooked but immensely important series of United States paper currency is presented with a dozen tables, over a hundred citations and references and a complete listing with images of all known issues, types and varieties for the first time.
Copies of the limited edition of 250 hardbound books may be purchased by contacting info@Kagins.com or 888-8KAGINS (852-4467).
Library Product :
Please register as a member to check out items.